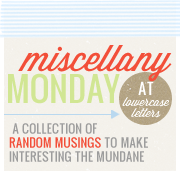 Okay, stay with me here.
I warn you that my train of thought gets hard for me to figure out, so don't think its just you if you get lost. I'm like the lady who went to the kitchen to do something and ended the day doing everything except what she initially started out to do.
Perhaps because of my recent "Syncope," I have begun to think about what will happen to some of the items that have been passed down from Mothers and Grandmothers, and would anyone appreciate them when I'm gone. So, I've talked to both my girls and we agree that at some point it would be a good idea for the three of us to spend some time going over things that they will inherit. There is very little monetary worth but there is an emotional attachment because of their history.
Hold that thought.
When Hubby and I moved into our Garden Home we made the decision to keep only what we loved and to use our "good" stuff. We have done pretty well with this except for the really good sets of china. I just can't see us using them while eating off our laps in the den. Maybe one day. But again I digress.
Hold that thought.
This past Saturday, Hubby and I took down the few Christmas decorations that we put up before we left for the month of December; we only do the minimum in order not to be seen as the neighborhood Scrooges. So, as you know, when something comes down, something else needs to take its place and we were ready for something fresh in the way of accessories.
Hold that thought.
Are you looking forward to the new series of Downton Abbey as I am?
Hold that thought.
As I was putting some things away on Saturday, I discovered my securely wrapped and stored silver tea service. Now, if you are a fine Southern Lady or of British Royalty, you will probably have inherited a silver tea service from your mother or grandmother or were given one as a wedding gift. Ours was a gift from a dear friend who was astounded that we did not have one already in our possession.
I must admit that it was nice to have in the day of teas and receptions and nice social events when I also pulled out the crystal punch bowl and cups. However, I have not had an occasion to use any of these in several years and last saw it when I polished it and stored it before the big move.
Okay, lets start tying this story together.
I decided to take the silver service out and see if it needed polishing, which it did. While doing so, I began to think which of my daughters and/or granddaughters would be interested in inheriting it at my demise, or would someone be relegated to taking it to the closest consignment store. I came up with only one possible candidate based on how I see them now. One granddaughter would never remember where she hid it much less spend time polishing it; another would find it very pretentious and superfluous; another would be dumbfounded about how to fit it in with her tie-dye; and another is only six and impossible to imagine with anything other than a Barbie. So, that leaves only one remote possibility.
At this point in my all-over-the-place thoughts, I remembered our decision to use what we loved. Okay, but where does one display a silver tea service if you aren't having a tea party?
Here is where Downton Abbey comes into the picture.
I decided if they can do it, so can I. So, I put it on my living room coffee table and added a couple of my favorite demitasse cups. Also a must for a southern bride.
Since I was in the silver decorating mood, I decided to pull out some other silver pieces that are also favorite items that I must remember to tell my daughters about. While doing this, I remembered reading one of my favorite blogs,
Good Life of Design
and that KathySue said she intended to use Yellow as her personal color in her home this year.
This sounded like just the touch of color to revive my wintery decor. So, this is the result of all my splintered, and totally unrelated thoughts of late.
All that to say, I love my silver and crystal and touch of yellow. Now, all I need is a parasol and someone with whom to share a delightful cup of tea!
What has inspired you to do something different in your house this new year?