It is the end of a wonderful weekend and time to think about teaming up with Carissa and Miscellany Monday. I look forward to joining all the other bloggers who will be posting on this Monday morning.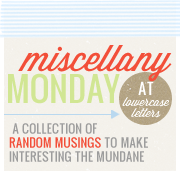 This was the weekend Hubby and I look forward to all year long. It is when our two children bring their families together with us for a few precious hours. We are never disappointed and are left wishing the time wasn't so short and the distance between us not so far.
FAMILY
These are our seven wonderful grandchildren who love their time together. There is never a dull moment around these diverse personalities and temperaments. And there is never a shortage of loving with these close cousins.
Because our oldest granddaughter will be 19 on Easter Sunday, we had an Italian Cream Cake for desert. However, since this is the only time we will all be together this year, we celebrated everyone's birthday. We added a candle to Strawn's famous strawberry and chocolate pies and sang "Happy Birthday" to three of us at a time. Everyone had a turn to blow out a candle. What fun! And what delicious deserts!
We have a new boutique in town that we discovered this weekend. It is the neatest young women's store with some really cute clothes. While we were in the dressing room area, I noticed on a table a copy of "Radical" by David Platt and then a binder for Prayer Requests. I found this most unusual and began to look around at other things. I then found the above posted explaining the Mission of this delightful store. Besides being impressed with this and the friendly manner of the clerks, my granddaughter found two perfect dresses.
Our Indiana family's main request when visiting their Louisiana hom

e is for good seafood. After a morning of worship we found the best seafood in Shreveport. We had boiled crayfish, fried catfish, alligator and oysters, plus wonderful etouffee. M-E learned to peel a mudbug but refused to eat one.
Both our favorite teams will face each other in the Final Four on Tuesday night:
Baylor and Notre Dame.
What exciting games they played to get to this point but it's got to be BAYLOR all the way!
GEAUX BEARS!