This is a late
Miscellany Monday
posting for me, but after a full Sunday and late evening as well as an equally late Monday morning at the gym, I'm just now getting to the computer. But, I'm looking forward to sharing with you some "miscellany" this morning.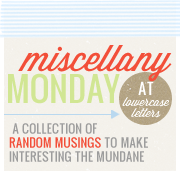 Yesterday was a wonderful day of praise and worship of a Savior who was willing to die that I might know forgiveness and salvation. It was a day of praise and worship of a Savior who did not stay in the tomb, but arose that I might have eternal life with Him forever.
The music in our worship service was spectacular. I am playing handbells again
after many years and was thrilled as we joined the fabulous organ, brass and tympani for the congregational singing and choir anthem. My heart was especially stirred as our organist finalized our time of worship with Widor's Toccata from Symphony No. 5.
Thank you Sherry for this beautiful offering.
Yesterday was our oldest grandchild's 19th birthday. Our Chandler has always brought such joy and boundless love to our lives. It has been such a pleasure to watch her grow into the beautiful young woman that she is today. She has devoted her life to pleasing her Lord which makes her as beautiful inside as she is on the outside. We thank God for these 19 years with this precious person and look forward to what the Lord has in store for her in the future.
Happy Birthday Chandler!
Granddog
We had the pleasure of keeping one of our granddogs this week while her family vacationed. Lexi is a well bred, healthy, and highly intelligent dog. She is as close to royalty as this family will get. She is a Welsh Corgi - the same breed Queen Elizabeth has many of. I love this old picture of the Queen as a young girl with her favorite dogs.
Happy Monday to you and thanks for joining me for my miscellany thoughts.